15/0 seed beads Toho "Metallic Gold Carnival Iris" (513)

11/0 seed beads Toho "Metallic Gold Carnival Iris" (513)

8/0 seed beads Toho "Metallic Gold Carnival Iris" (513)

6mm 2-hole cabochons "Crystal Amber Full"

3mm fire polished beads "Mirror Gold"

MiniDuo beads "Opaque White Ruby Gold Luster"
15/0 seed beads Miyuki "Dark Bronze" (457)

11/0 seed beads Miyuki "Dark Bronze" (457)

8/0 seed beads Miyuki "Dark Bronze" (457)

6mm 2-hole cabochons "Crystal Lila Vega Luster"

3mm fire polished beads "Bronze Illusion"

MiniDuo beads "Crystal Gold Luster"

Most of you have probably been to Un-Roen's Elfenatelier website where she has lots of cute beading patterns that you can download for free. They're not in English but they have such easy-to-follow illustrations that it doesn't matter. Did you know that she also has an Etsy shop where she sells beading kits and tutorials? Click HERE to go to Manarata Art Jewelry and HERE to buy the "Fay" pattern. Browse through the kits to get lots of color ideas for the bracelet.
NOTE: As is the case with most Etsy shops that sell beading patterns, you might go there to buy this pattern only to get a message saying that the pattern is not available. That's because someone has just purchased the pattern and it takes a little time for it to be re-listed. If you get this message, try again a little later. It's been my experience that it usually takes about 20 minutes or so for a listing to become available again.

Un-Roen asked me if I'd like to do a review of her most recent bracelet pattern and of course I said "yes". When she sent me the pattern, I looked over the bead supply list and realized that I didn't have any of the main beads that are essential for the design. In fact, I'd never seen those beads before anywhere. They're 6mm 2-hole cabochons and they're relatively new. They're like a 6mm druk that has been cut in half and has two parallel holes in it. I didn't have any luck finding them for sale online anywhere in the United States but the local bead shop, Beadoholique, just happened to be featuring them on their website so I went to see what they had. Unfortunately, most of the colors that they have don't appeal to me but I did buy two colors. I got them in Crystal Amber Full and Lila Vega Luster and I used both colors to make these two bracelets.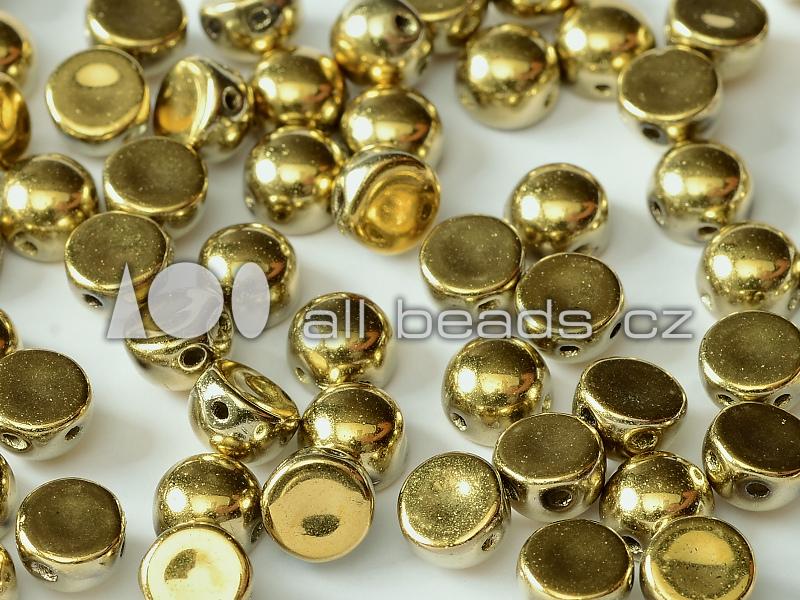 6MM 2-HOLE CABOCHONS
I can't wait to get more of these "2-hole cabs" when I can track down some nice colors online. I will let you know when I find some and will give you the links. In the meantime, HERE is a link to the main supplier for these beads where you can see what colors they come in. I also found a Czech Etsy shop that has some, HERE. I took the photo below so that you can see what the cabochon beads look like from the back:


A really nice thing about this bracelet pattern is that it also calls for MiniDuo beads. I've got quite a few nice colors of them now but still haven't found that many patterns for them.

As usual, Un-Roen's diagrams are simple to follow plus this time you can get the tutorial in English. The design is easy to make once you've learned the steps for the two basic motifs which are based on the Right Angle Weave stitch.

I was going to use bicones in my bracelets as directed but I liked the colors of the fire polished beads that I used. They went perfectly with the gold color of the cabochons. As you can see, fire polished beads work great as a substitute for the bicones so I used them in both of these bracelets.

I'm not sure why but both of my bracelets came out more straight across the top and bottom edges than Un-Roen's. Her cabochon motifs seem taller than mine even though I did everything according to the directions and used the same size seed beads that she used. I even used Miyuki beads in one of the bracelets and Toho beads in the other with pretty much the same results. The bracelet with Miyuki seed beads did come out a little shorter in length than the Toho bracelet though. I suspect that the reason why Un-Roen's cab motifs seem taller than the bicone motifs is because she used Swarovski 3mm bicones. I only have Chinese bicones in that size and they're 3mm in length versus the 2mm of Swarovski bicones. Swarovski 3mm bicones are 3mm in diameter but only 2mm in length which might account for the shorter motifs in her bracelets. The 3mm fire polished beads that I used are 3mm in length. I don't mind that my bracelets look a little different though because they're very pretty.

The pattern doesn't call for 8/0 seed beads but I used two of them to attach my clasp. Un-Roen attached her clasp a little differently than I did on mine.